Incomparable
First ultra-mini laser beam projector in the world to apply LCOS-type laser light source
---
◎ LASER BEAM PRO
Feel the sensation from a wide screen easily and quickly at anytime and anywhere with the small movie theater in your hand.
Base on the laser light source, it does not require a focus to provide WXGA (1366 X 768) resolution and to impress a user with a wide color range screen without afterimage and bright, clear resolution.
Make your own small theater with 20 ~ 100 inch screen.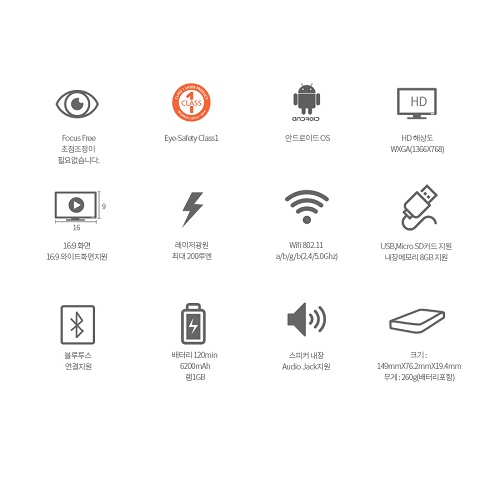 CES InnovationAwards 2016 , 2017 Honore
PRODUCT SPECIFICATION
◎ Major Specification of LASER BEAM PRO
| | |
| --- | --- |
| Brightness | 200 lumens |
| Resolution | WXGA ( 1366 x 768 ) |
| Laser Safety Grade | Class 1 |
| Focus Adjustment | Focus - Free |
| Internal Memory | 8 GB |
| Ram | 1 GB |
| Memory Expansion | Micro SD ( up to 128GB ) |
| OS | Android Lollipop |
| Wi-Fi | 802.11 a / b / g / n |
| Bluetooth | V4.0 (Available to connect a keyboard, mouse and speaker) |
| Cable Connection | Micro HDMI |
| Wireless Connection | Android / i OS Screen Mirroring |
| USB | Connection for 1 port 2.0 |
| Speaker | 1.0 Watt ( 1 Built-in) |
| Audio Output | 3.5mm Audio Jack |
◎ Brightness & Contrast
Providing a bright screen with a maximum of 200 Lumens to exceed the limitation of existing technologies and to obtain the Class 1 from laser safety grade
With more excellent contrast than LED light source to provide clearer and deeper resolution
■FOCUS FREE
Since the Laser Beam PRO utilizes the laser light source, it can automatically adjust the focus regardless of distance and curve.
You can watch a movie even on a moving car and enjoy the video in a small meeting or lecture easily and quickly.
■Smart projector available for self actuating
Laser Beam PRO may be used as a tablet PC with the Android OS.
In addition, it does not require a separate connection device (smart phone or PC) but only require Laser Beam PRO to operate.
With internal memory of 8GB, micro SD card, and USB connection, you can enjoy HD-grade wide screen at anywhere at any time.
■Expanded connection with various devices
You can use a Bluetooth mouse, keyboard and speaker with the support of Bluetooth 4.0.
In addition, there is an ear jack to connect cable speaker and earphone for more vivid sound quality.
With connection with USB and micro SD card, you can show a video or presentation more easily.
■Pocket size to your pocket
Laser Beam PRO is with a portable bar type design to be improved from existing cube shape.
With the width 149mm, length 76.2mm, thickness 19.4mm to be portable.